Takakura Hiroki
Professor

Social anthropology, Siberian ethnography

Studying the Complexities of Russia's Multiethnic Society and Indigenous Humanity-Nature Relations

To fully understand Russia, we must take into account its nearly two hundred ethnic groups spread out over territory that occupies the greater part of northern Eurasia as well as its colonies that once extended from Central Asia all the way to Alaska. Indeed, Siberia still displays the characteristics of a kind of domestic colony. Inhabited by a large population of indigenous peoples, it is also an economically developing region endowed with abundant natural resources. The scope of the anthropological study of Siberia, therefore, must both delve into the social-cultural context of Russia, ethnic and religious issues included, as well as more clearly elucidate the inhabitants' cultural adaptations to the harsh natural conditions of the Arctic and other areas where they live.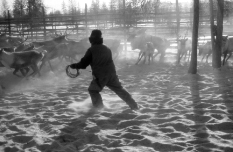 An Even tribe herder capturing reindeer along the eastern foot of the Verkhoyansk mountain range in Russia


Principal areas of interest
● Ecological anthropology of Arctic hunter and herder
● Dynamics of cultural formation in post-socialist regions
● Nationalism and Indigenous movements in the Slavic Eurasian world
● Ethnological studies on Sakha history and culture
● Historical anthropology of the Sea of Okhotsk regions
● Anthropological history of Russia and Japan