Segawa Masahisa
Professor

Cultural anthropology, South China studies

Traditional Culture in Today's Rapidly Changing Society: Resurgence of Zongzu Patrilineal Clans in Southern China since the 1990s

Traditional Chinese kinship communities known as zongzu, in which members of the same patrilineal clan dwell together and jointly tend the graves and spirits of their ancestors, underwent a widespread resurgence in rural southern China following the opening of the country's economy in the 1990s. Although seemingly anachronistic, these modern-day zongzu have been reinterpreted and invested with new social meanings to fulfill diverse roles within China's rapidly developing society, from conferring social status upon those made newly wealthy by economic development and repairing societal bonds severed during the Cultural Revolution to satisfying feelings of national pride by allowing members to associate their lineages to China's long history. Using fieldwork and case studies, my research seeks to uncover these and other little-known facets of Chinese society today.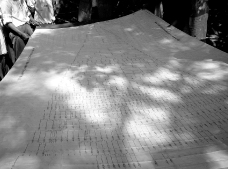 Unfolding a family tree in Shanzhou, Hainan province


Principal areas of interest
● Kinship groups and social institutions
● Ethnicity
● South China region